Here at the Data Science Melbourne Meetup group, we're always looking for ways to help our growing data science community.  One initiative is an Internship Program: a mechanism by which to connect employers with data scientists who are seeking practical work experience.  We launched this program at our inaugural conference in May 2016 and have since run 4 rounds, with over 60 interns being placed so far.
The program is now run in conjunction with our annual datathon. In order to filter the vast number of applicants, it is a condition that you submit a solution to the datathon in order to be considered.
Why take on an intern?
We've all heard about the talent shortage.  Well, taking on interns gives you access to fresh, and usually very eager talent.  They're eager to start putting their skills to practice, and they're eager to learn fast.  With the right people the ROI can be significant, and the risk is low.  Also, it's an opportunity to give your more senior data scientists some management experience by getting them to supervise the interns.
And the best part is, when the internship is over, you can recruit your intern straight into a graduate-level position.  Skip the recruiting hassle, skip the learning curve, go straight to value add.
Why do it through the DSM meetup group?
With over 10,000 members, and strong connections to industry and academia, we believe we're well placed to make meaningful connections between employers and students.
For the first round of this program, we had 24 applicants, and of those we placed 6 in 4 organisations.  That round was restricted to participants of the datathon that we ran in conjunction with our conference.
For the 2nd round in Oct 2016, we had over 250 applicants and 12 participating companies including KPMG, SEEK , SAS,  ANZ,  iSelect and  Yellowfin. See the photos of the evening here. The program was a great success with over 20 interns placed.
The 3rd round in May 2017 was held in conjunction with the Melbourne Datathon, where in order to apply, potential interns had to submit a solution to the datathon. The feedback we have had is that this is a preferable system as in addition to a CV there is evidence of technical ability. The result of this was a reduction back to 35 applications, with the pre-filtering making the employers selection efforts much easier.
The 4th round in Sept 2018 was again run in conjunction with the datathon, with ANZ alone taking on 15 entrants.
How do the internships work?
The DSM program is just an introduction service with the specific details about the nature of the internship to be determined between the  companies and the candidates. The best candidates will have several offers so make it as attractive as possible!
So what do we need from you?
We need firm commitments from organisations who would like to participate. Without sufficient interest from the industry there's not much we can do.
In order to register your interest please fill in the form here and we will be in touch.
Does it cost anything?
Joining the program is free if you're one of our sponsors. For non-sponsors, there will be a one off $1,000 non-refundable admin charge (but you can take on as many interns as you like).
Beyond the cost of joining the program, we would just ask that you pay the interns a salary.  Given that this program is not a formal component of a university degree, you are actually obliged to pay, see more details here. But regardless, we at DSM think that data scientists should be valued, and we're trying to create a quality program that encourages data science students to enter the workplace, and therefore we strongly discourage non-paying internships.
I'm a student looking for an internship – what do I do?
Join the DSM meetup group and keep an eye out for information on the upcoming datathons.
Participants of the inaugural program…
Lachlan Russell  and Els Godecharle with Anthony Coops (Partner, Head of Data & Analytics at KPMG)
Both Lachlan and Els are now full time employees at KPMG.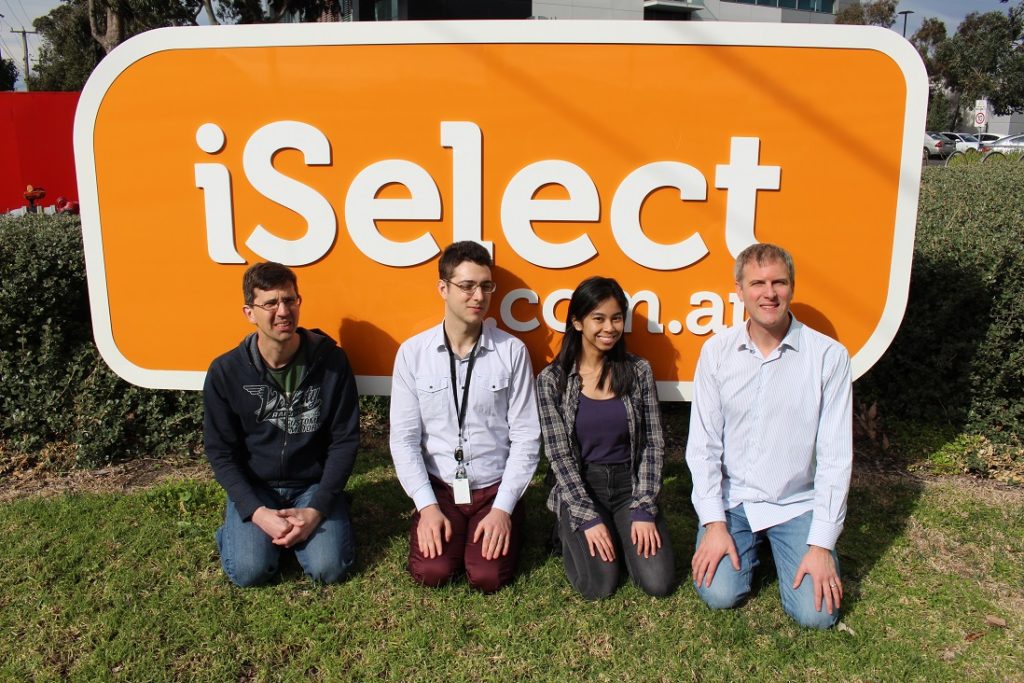 Richard Gabler, Naylyn Gaffney and Micah Augustin with Yuval Marom (Head of Analytics and Data Services at iSelect)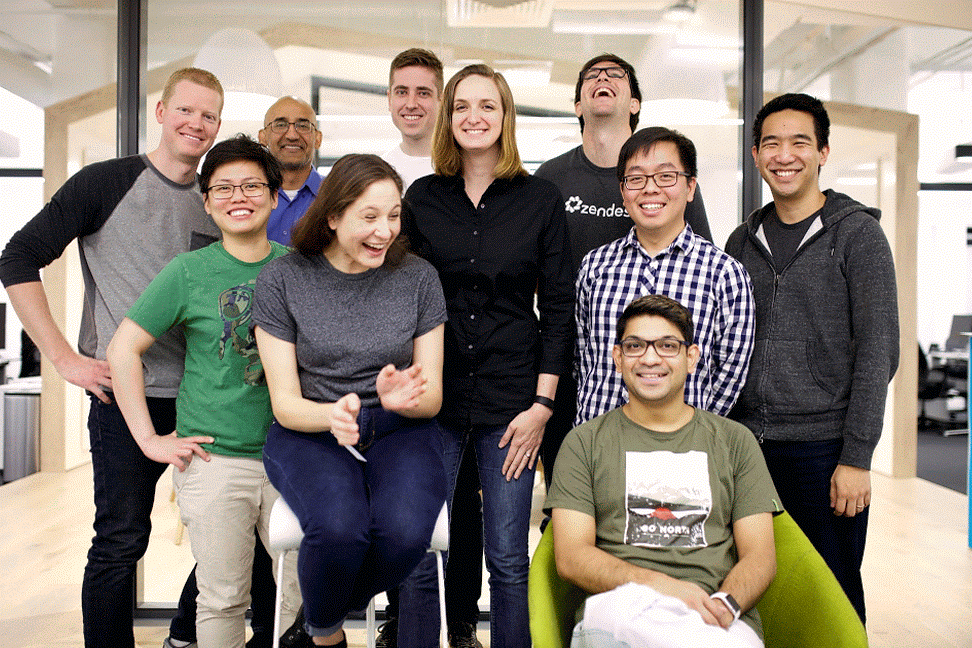 Christina Pragastis with the Zendesk Data Product team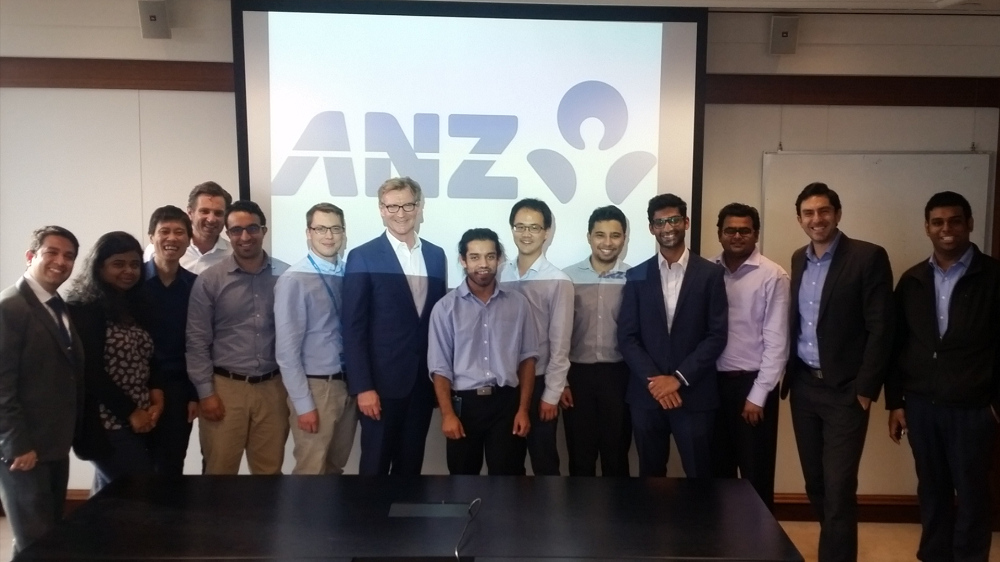 ANZ took on 10 interns in round 2
Ben Phillips spent 4 months at Silverpond.  Read his story here.
I was fortunate enough to be given the chance to be able to participate in iSelect's internship program, and I can confidently say that it nourished my passion for data and analytics even more. To be surrounded by wonderful and supportive mentors that enjoy working with data as much as you do provides a perfect space for growth and development. Each project becomes a great learning experience – your data science skills improve, all while gaining invaluable industry exposure. Every single day, one could work with data that has the potential to affect the business in a favourable way, and it feels really fulfilling to be able to contribute to something that positively impacts others, all while doing something that you love.
A data science internship is one of the best opportunities that anyone, especially students, could ever have, because it is the most optimal way to apply your analytical skills, in a manner that transcends the walls of the classroom – what you have learned transforms, from being mere hand-written notes about the statistical theories behind distributions and chunks of code for visualising data, to actual predictive models and analytical reports that a business will utilize.
— Micah Augustin
The Data Science Melbourne Internship Program has been a great experience for me. Since starting at iSelect I have had the opportunity to develop my skills while engaging with real data science problems. The data team at iSelect has provided the support and mentoring I need in a friendly and welcoming environment. I strongly recommend the program to anyone looking to take their first steps into a data science career.
— Naylan Gaffney
We thank all our sponsors and supporters who make things possible…
---